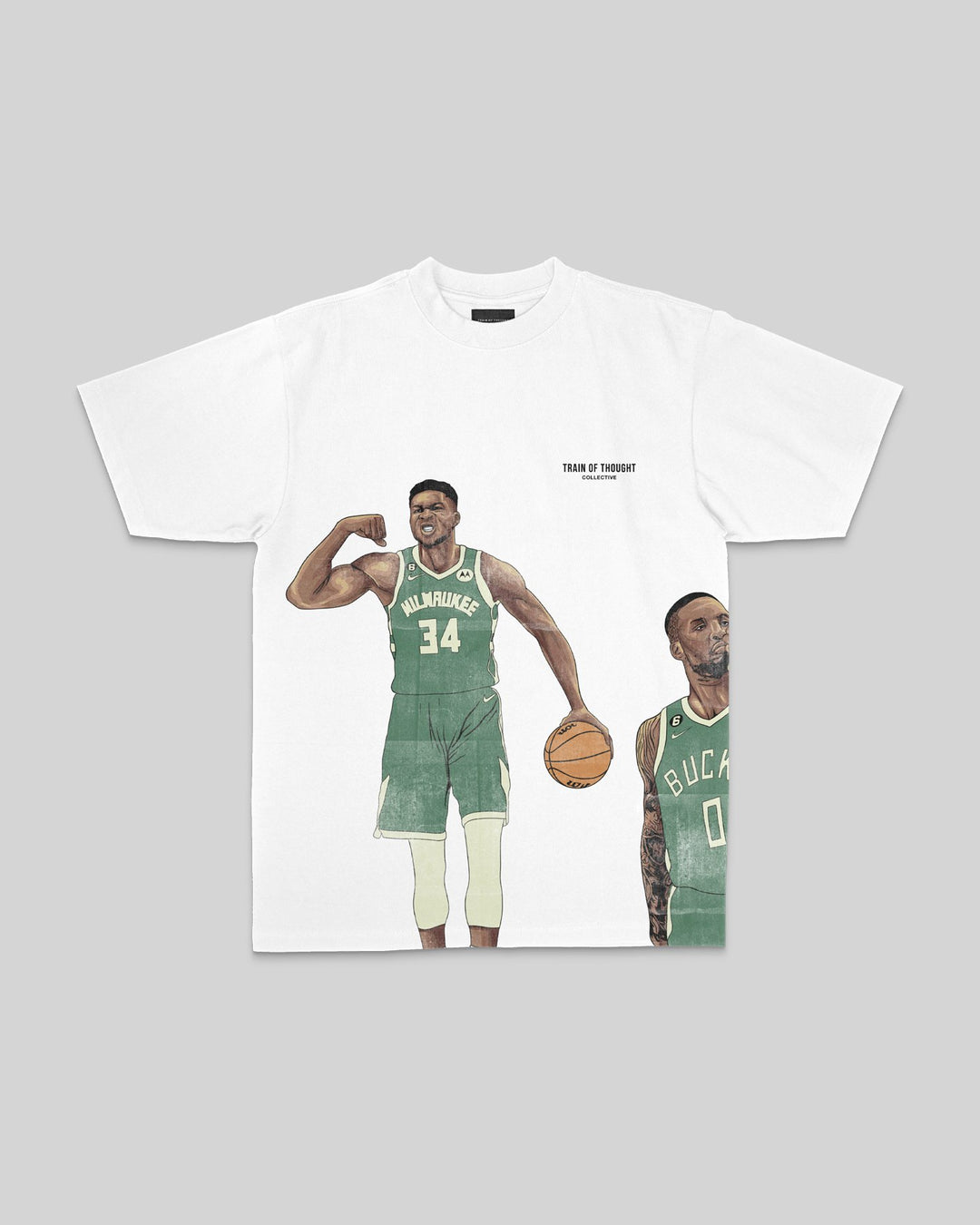 The Greek Dolla White Tee
Specialty Print: 3-Location print with each oversized print going over the bottom seams for that cut & sew look. You won't find another shirt like this.
Our Heavyweight shirt is a 7.5oz classic boxy relaxed fit. We recommend sizing up if you prefer an oversized fit. 
TOTC Woven Label

100% pre-shrunk

16 Singles
245-255 GSM
100% cotton
3.5% lycra mock neck ribbing
Heavy knitting

Please give us 1-4 business days before your order is shipped out.
*Each size will look slightly different due to a 2 location print on each side
Ships in 1-4 Business days
• Ships priority 2-4 day delivery
• International orders 1-2 week delivery
• Hassle Free Returns & Exchanges on Non-Final Sale Item
Size chart
 TOTC Max Heavyweight Tee
| | | | |
| --- | --- | --- | --- |
| Size | Body Length | Chest Width | Sleeve Length From Center Back |
| S | 29 | 18 | 16.75 |
| M | 30 | 20 | 18 |
| L | 31 | 22 | 19.75 |
| XL | 31.5 | 24 | 21 |
| 2XL | 33 | 26 | 22.25 |
| 3XL | 35 | 28 | 23.5 |
| 4XL | 37 | 30 | 24.5 |
| 5XL | 39 | 32 | 25.5 |
  TOTC Max Garment-Dyed Heavyweight Tee
| | | | |
| --- | --- | --- | --- |
| Size | Body Length | Chest Width | Sleeve Length From Center Back |
| XS | 26.5 | 17.5 | 16 |
| S | 29 | 18.5 | 17 |
| M | 30 | 20.5 | 18.25 |
| L | 31 | 22.5 | 20 |
| XL | 31.5 | 24.5 | 21.25 |
| 2XL | 33 | 26.5 | 22.5 |
| 3XL  | 35 | 28 | 23.5 |
| 4XL | 37 | 30 | 24.5 |
| 5XL | 39 | 32 | 25.5 |
| | | | |
TOTC Hoodie
| | | |
| --- | --- | --- |
| Size | Chest Width | Body Length (HPS) |
| XS | 20.5 | 27.5 |
| S | 21 | 28.5 |
| M | 23 | 29.5 |
| L | 24.5 | 30.5 |
| XL | 26.5 | 31.5 |
| 2XL | 27.5 | 32.5 |
| 3XL  | 28.5 | 33.5 |
TOTC Crewneck Sweatshirt
| | | | |
| --- | --- | --- | --- |
| Size | Body Length | Chest Width | Sleeve Length From Center Back |
| XS | 26 | 18 | 32.5 |
| S | 27 | 20 | 33.5 |
| M | 28 | 22 | 34.5 |
| L | 29 | 24 | 35.5 |
| XL | 30 | 26 | 36.5 |
| 2XL | 31 | 28 | 37.5 |
| 3XL  | 32 | 30 | 38.5 |
| 4XL | 33 | 32 | 39.5 |
| 5XL | 34 | 34 | 40.5 |